letzte Woche habe ich mich im Gürtel flechten probiert..
last week i tried to braid a belt..
das flecht-muster
nach dem ich einige Anleitungen gelesen hatte und mit verschiedenen Anzahlen an Seilen experimentiert habe, wurden es dann 9 Seile – 3x Baumwolle (weiß) 6x Hanf (dunkel)
ich wollte diese auch in einem gleichmäßigen Muster in der Flechtung wieder finden..
das war schwieriger als erwartet –
Das Flechtmuster ist einfach:
alle neun Seile liegen nebeneinander
fange auf der rechten Seite an
lege das Seil von ganz außen über die nächsten zwei Seile
dann unter die nächsten zwei Seile
dann fange auf der linken Seite an
lege das Seil von ganz außen über die nächsten zwei Seile
dann unter die nächsten zwei Seile
nun beginne wieder bei 2.
Also immer Über 2 – Unter 2.
leicht nach zu vollziehen und zu lernen!
durch viele versuche lernte ich dann das ich mein Muster links anfangen lassen muss damit es danach auch als das Muster erscheint… also von Links nach Rechts:
weiß dunkel dunkel weiß dunkel dunkel weiß dunkel dunkel
Wahrscheinlich kann man auch das Muster von rechts anfangen – wenn man dann von links anfängt zu flechten..
---
the braiding pattern
after i studied a bunch of tutorials and experimented with different rope counts i decided to use 9 ropes – 3x cotton (weiß) 6x hemp (dunkel)
i wanted to have a nice & equal distirbuted pattern – this was harder then expected.
the basic pattern is easy:
all ropes are side by side
start with the right outer most
lay the rope over the next two
put it then under the next two
now start from the left
lay the rope over the next two
put it then under the next two
start again at 2.
its basically every time: over 2 – under 2.
easy to learn and handle..
after a bunch of experiments i found that i need to start my color pattern from the left:
white dark dark white dark dark white dark dark
i think you can also switch the pattern to start from right if you start braiding from left..
der anfang…
war bei mir sehr komplex…
ich wollte so eine möglichst lückenlose schöne runde spitze haben…
hab dafür aber nirgends infos gefunden.
zusätzlich hab ich während der Bahnfahrt geflochten – und hatte nur die Klappsitze zum Fixieren.
hab also erst mal ca 15cm einfach nur die Seile parallel gelassen – (den teil eingeklemmt)
und dann ca 20cm geflochten – dann dort temporär einen Knoten rein gemacht.
danach hab ich das Flecht-Muster Richtung Seil-Anfang verschoben – langwieriger Prozess…
doch es hat geklappt – und dabei sogar eine einigermaßen schöne Spitze ergeben.
für das Nächste mal weiß ich auch – zwei der Baumwollseile hätte ich durchgängig lassen können…
the start
was a bit complex…
i wanted to get a nice round tip..
but did not manage to find any tutorial about this. additionally i was on the train-ride – so i only had the folding-seats as holders.
So i left the first 15cm side by side – then started to braid ~20cm.
after this i tied a temporary knot.
then i worked the braiding towards the tip – a difficult and time-consuming task..
but it did go well and i managed to get a nice tip.
for the next time i know its better to leave two of the cotton ropes as one..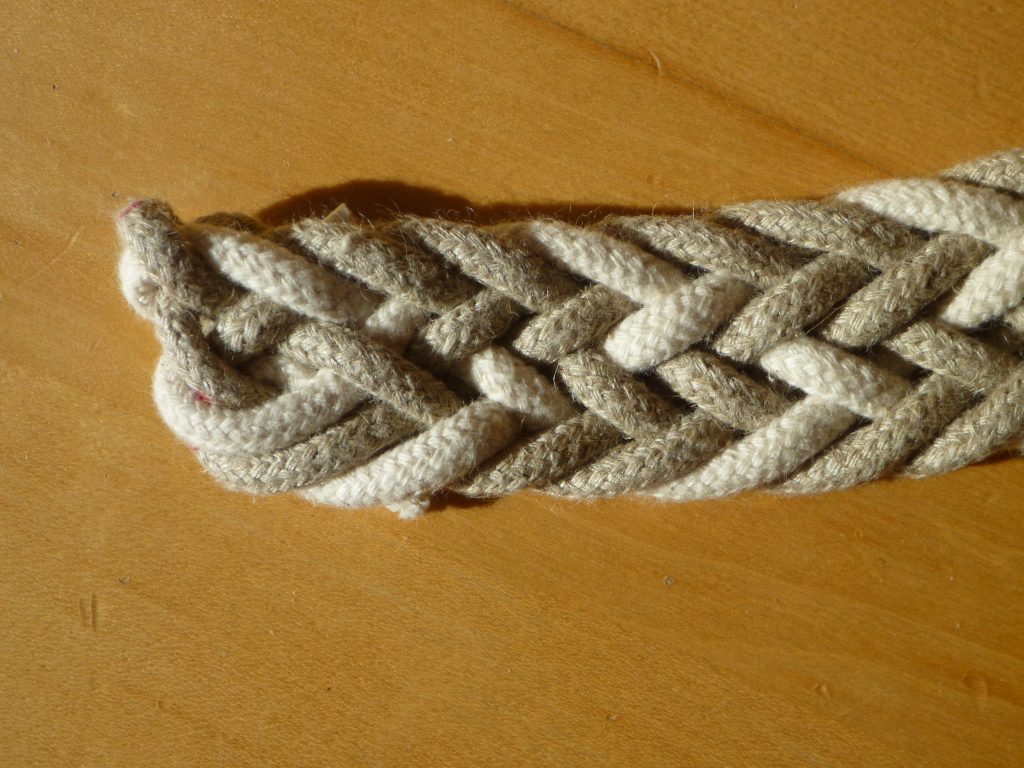 Schnalle / buckle
ich wollte eine einfach Schnalle zum zu ziehen –
i selected a simpel concept of a buckle to just pull tight –

diese besteht aus zwei Ringen – ich hab diese aus 3 Lagen 1mm-Flugzeugsperrholz gelasert und auf einander geleimt. (also 6x das gleiche Teil lasern und in zwei Ringe je 3 Schichten verleimen)
in der nächste Version werden diese kleiner..
this are just two circles – i used 3 layers of lasercut 1mm moddelmaking ply wood for each.
the three layers are just glued together.
in the next version i will design them a little smaller..
das ende / the end
Das ende ist ähnlich wie der Anfang – die Offenen Seil-Enden sind einfach im Flechtmuster unter gewebt.
The end is similar to the start – the open rope ends are just woven into the pattern.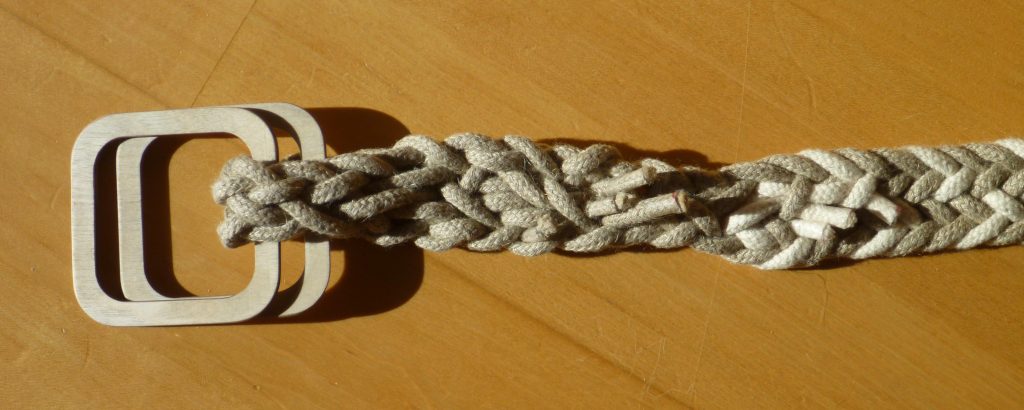 bei mir waren die Baumwoll-schnüre kürzer als die Hanfseile – (schlicht weil ich zu wenig hatte..)
Deshalb hören diese früher auf..
Ich behielt das Flechtmuster dennoch ungefähr bei – irgendwie ging das dann…

my cotton rope was to short – so it ends first – the hemp is longer…
i continued the braiding patter in some way… it just worked kind of…
seil länge / rope length
wenn ich mich richtig errinnere dann haben die Seile folgende Längen:
if i remember correctly the ropes have this lengths:
Baumwoll cotton: ~ 1,7m
Hanf hemp: ~ 2m.
der fertige Gürtel ist
the resulting belt is
1,47m lang / long.
Fazit / conclusion
hat sehr viel spaß gemacht!
was fun to make!!
noch zu erledigen: versiegeln der einzelnen Seil Enden – eventuell mit Möbel-Öl oder Kerzen-Wachs
next things to do: find a good way to seal the single rope ends – ideas are furniture oil or bees waxs